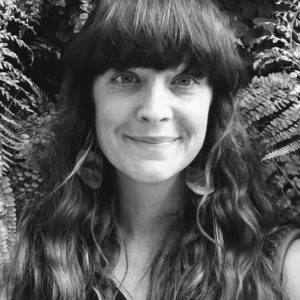 While working on her painting thesis at Herron School of Art & Design, Brittany recognized the paradox of painting concepts of nature while spending so much time in her studio.  She decided to devote her postgraduate life in service to nature by working in land conservation and ecosystem restoration building trails and living among the bears in the wilderness.
One night while sleeping in her tent on the ground under the stars, she had a dream of a huge field of berries, each one larger than her own being, extending far into the horizon in all directions. In this dream she walked through the rows of giant fruits and tended to them. The focus of her work became clear when she awoke and her life began to bend and grow more strongly towards the sun.
Brittany spent a beautiful year abroad, and ventured on an artistic pilgrimage visiting the art she had studied in college in Italy, France, Spain and Portugal. She lived and worked with an amazing family in a small village in the mountains outside of Barcelona, where she was an artist-in-residence at Jiwar Creation & Society and participated in the Walking Gallery. She worked on a regenerative farm in Portugal where she learned the principles of permaculture and a closed loop lifestyle that would unite her values with her work.
Upon returning to the USA, she had her first solo art exhibition, and began to work on farms across California. Growing and foraging organic food, flowers, herbs, and animals, she learned the ways of tending the land from elders and studied the changing climate conditions.  She planted tropical food forests and studied mesoamerican art and architecture while traveling north from Costa Rica to Nicaragua, Honduras, Guatemala, Belize and Mexico. She studied Permaculture Garden Design on Ometepe island in Nicaragua, Agroecology with the MESA program, and Herbalism with Rosemary Gladstar.
For several years, Brittany managed a large organic farm and her dream of tending to the bounty of berries came true as she supplied her local community with fresh food, planted a large terraced orchard using permaculture principles, and hosted volunteers from all over the world who wanted to learn the art of farming. She is always working on several new paintings simultaneously and shares her love for the earth, art and gardening with the world through her website and art shop. After many years of searching for a place to call home, she is living her dream in a tiny beach house on coast miwok land where the ocean always brings waves of inspiration.