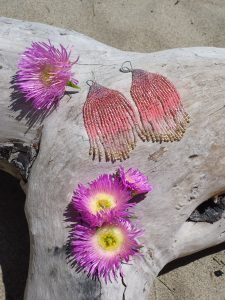 while I wait for my paintings to dry in the evenings I have been beadweaving.
it's a very meditative process of stringing & weaving together very tiny beads, with my endless collection of live grateful dead shows playing in the background. I get carried away for hours on end beadweaving & have made too many for myself so I decided to post some of the woven fringe seed bead earrings I made to my jewelry shop. visit my store & support me in my craft! all purchases from my online store help me buy more supplies to continue my art practice.  below are some photos of my beadweaving fringe glass bead earrings at the beach displayed on some weathered driftwood on a hot summer day. I love the way the sun shines through & is reflected by each tiny piece of glass.
may you too shine brightly and be happy !